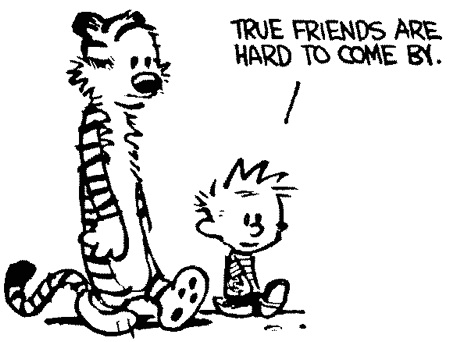 I think one of the greatest blessings of God in my life is to both get to
be
and to
have
friends.
When it comes to
being
a friend, I think about the apostle Paul. I never cease to be amazed at the level of love and intimacy present when I read the apostle Paul's words in passages like
2 Timothy 1:3-4
,
Philippians 1:1-9
,
1 Thessalonians 1:2-3
,
2 Thessalonians 1:3-4
,
Ephesians 1:16
, and
2 Corinthians 1:3-7.
. Paul's life was all about loving, hanging out with, praying for, and investing his life into people. I see a depth of love here that goes way beyond what frequently passes for friendship in our culture.
As I've read, and re-read, Bible passages like these over the years I'm challenged to live a different kind of lifestyle. One where people count way more than possessions, homes, or cars. A life style where my own needs, shyness, social anxiety, and comfort level are not what it's all about. A life style that's about cultivating an ability to hear God's voice and see people the way He does, to really hear what's going on with someone else, and to be constantly reaching out. More and more as time goes by, this is the life I'm seeking.
I've been thinking about this since I knew we were writing about friendship this week. I've been thinking about how to
be
a friend. Then yesterday I had the opportunity to go visit a close friend of mine from where I used to live; and I received the blessing of
having
a friend.
This friend, Paula, only lives about a 1 1/2 hour drive from me, but we don't get to see each other all that often. There's few things in life that can compare to spending time with a good friend. To have someone with whom I can totally be myself and just say whatever I want because she already knows me and loves me anyway. Someone who I find interesting and we can enjoy the same things - like a 2 hour walk on the beach while talking, talking and talking some more. Then it was extra wonderful because she loves to cook and she made dinner and invited two other friends, Carol and Olga, who I rarely get to see anymore, to share dinner with us. For me, I felt like I was basking in their presence, it just felt so good to be together with them again. These are people who we have history together, and, because of this history, when we share something that's currently happening in our lives, we all have a full appreciation because we know the background. These are women who I've seen God work so mightily in their lives and when I'm looking at them, I feel such immense joy just knowing the wondrous things God has done for them. These are women who I know the painful stuff that's in their lives and I sincerely care, and have invested hours in tears and prayers for, and who we're still believing together for God to work in some specific situations.
As I'm here thinking about friendship the predominant feeling I have is gratitude. Gratitude that God has blessed me with such wonderful friends. Gratitude that He lets me be a friend to others.
What about you, what comes to your mind when you think about friendship?